Artificial Turf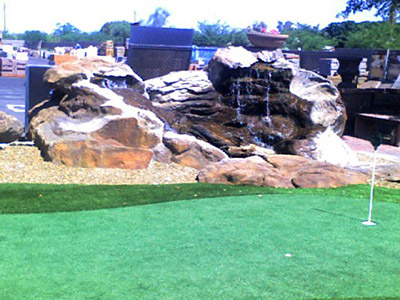 Most homeowners like to have grass lawns on their property and it's a fact that even a small patch of turf can add freshness and liveliness to the immediate surroundings. But anyone that has cared for their lawn and spent time on weekends to mow and de-weed their lawns will tell you that this job can be extremely time-consuming and tedious. However, there is a simple way to avoid this and have the lawn you want; opt for artificial grass installations instead!
Unique Rock and Water Inc is a leading operator in the field. We cater to customers in and around Phoenix, Litchfield Park, Goodyear, Surprise and Buckeye. We have also handled a large number of artificial turf installation projects in and around Avondale, Peoria, Glendale, Scottsdale and Sun City.
Benefits of An Artificial Lawn
When we discuss this option with our clients, some of them are skeptical about whether the installation will look appealing; many feel that the grass will look very "fake" and that it will mar the appearance of their landscaping. However, we can tell you from experience that artificial lawns are now being preferred over natural lawn installations for a number of reasons, including:
Artificial grass doesn't have a plasticky look and feel. This technology has advanced a great deal and this feature looks stunning. In fact, it's used in many residential and commercial settings and looks very real.
Installation is quick and easy and the work can be completed within a day (for a standard-sized yard space)
You can start using the lawn right after installation, and you get this instant lawn, without any downtime at all. In comparison a real grass lawn can take a long time to set well on your property and you can use it right away.
You don't have to worry about constant mowing, de-weeding, fertilizing, aeration, pest control, weed control treatments and watering etc. This makes it a highly low-maintenance feature and all it requires is an occasional hosing. You can clear any debris and leaves from it very easily as well.
When you choose to get fake grass installed from us, you are assured that the best products will be used and that the installation will be handled expertly as well. This means your lawn will last for years with the least amount of maintenance.
It's true that you pay a higher upfront cost for artificial turf than you would for a seeded or sod lawn. However, you don't incur any maintenance costs, you don't pay for irrigation and drainage installation and you save on utility bills. In addition, the installation lasts for years without any trouble. All these factors make it a very cost-effective option in the long term.
Artificial Grass Cost
When you are looking for fake grass installations that are durable and aesthetically appealing, you need look no further than Unique Rock and Water Inc. High quality, customized solutions at extremely competitive artificial turf cost is what sets us apart from the competition. Call us at 602-999-0947 and speak with our experts about your project details. You also have the option to send us your requirements via this
Contact Us
form and we will schedule a FREE onsite consultation as soon as possible.
We Provide Services to the Following Cities and Towns in AZ: