Water Features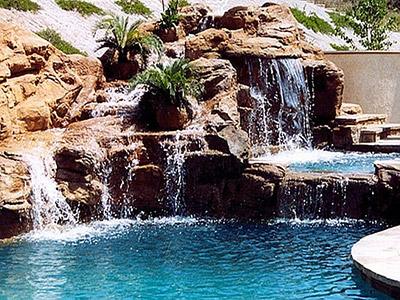 Landscape design is a mix of various features and elements. Only skilled designers are able to use all these in the right measure to create well-balanced outdoor spaces that will complement the look of the landscaping and ambience of your overall property.
Unique Rock and Water Inc. is a leading landscape designing and installation company. We cater to customers in and around Phoenix, Litchfield Park, Goodyear, Surprise and Buckeye. We have also handled a large number of water feature installation projects in and around Avondale, Peoria, Glendale, Scottsdale and Sun City. Most of our customers like to add some kind of water feature to their property.
We know that every property is different and so the solutions we provide are always customized to suit your requirements. We provide tailor-made solutions and use the best-quality materials and workmanship in all our work. Our company is highly focused on ensuring that our customers are always 100% satisfied with the solutions we provide; and you will find that we also maintain very reasonable water feature cost.
Types of Water Features
The different type of water features we can design and install for you include:
Fountains- These are a very widely used feature in landscaping projects. We have the expertise to design and install a range of stone fountains such as spouting, cascading, pondless and wall fountains. The style, design and the materials will be chosen based on the style of the settings and your preferences.


Waterfalls- This is one feature that creates a stunning impact in any landscape. We have highly experienced water feature designers on board that can create formal styled or natural looking waterfall installations your property. A cascading waterfall creates a very appealing look in the landscape.


Ponds- Adding a Koi Pond to your yard, with exotic aquatic plants and fish is the one way to create a very natural setting on your property. We plan these installations carefully and if you like, we can also add a waterfall to this feature


Streams- If you want a very natural look in your landscape, adding a meandering stream lined with river pebbles and lava rock or even faux boulders creates a very unique look in the outdoor spaces of your home.
Custom Designed Garden Fountains
We are particular about using the right kind of materials that will be aesthetically appealing and long-lasting; to create a landscape setting that would be a value-add to your home. Our company adopts a very personalized yet professional and customized approach to every project we take up.
High quality, customized solutions at extremely competitive water feature cost is what sets us apart from the competition. When you are looking for fountains or rock waterfall installations that are durable and aesthetically appealing, you need look no further than Unique Rock and Water Inc.
Call us at 602-999-0947 and speak with our experts about your project details. You also have the option to send us your requirements via this
Contact Us
form and we will schedule a FREE onsite consultation as soon as possible.
Click on the images below to view a larger display.
Photo 1

Photo 2

Photo 3

Photo 4

Photo 5

Photo 6

Photo 7

Photo 8
We Provide Services to the Following Cities and Towns in AZ: