Plants & Trees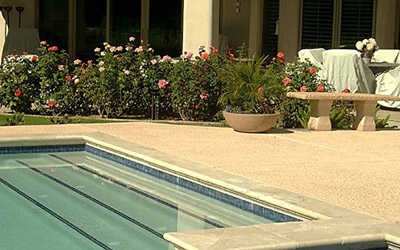 One of the first things that people think of when they are planning the landscape on their property is the kind of softscaping they want. This consists of all the plants, shrubs, trees and lawns on their property. Most property owners feel that it's not a difficult task to pick a few plants and trees they like and get them installed on their property. However, this could be no further from the truth.
All the plantings should be chosen with care to ensure your yard and garden has the right balance of greenery and color. This can happen only when you hire expert landscapers for the job. Unique Rock and Water Inc is a leading landscaping company in the region. We cater to customers in and around Phoenix, Litchfield Park, Goodyear, Surprise and Buckeye.
We have also handled a large number of plant and tree installation projects in and around Avondale, Peoria, Glendale, Scottsdale and Sun City.
Aspects of Planting Installation
Our expert horticulturists work very closely with you to understand what kind of plantings you prefer and take a number of factors into consideration while suggesting which ones would be best-suited for your requirements. The things they will keep in view are:
The kind of soil that exists on your property
The climatic conditions
Your preferences
The types of plant and flower colors you like
The plants and shrubs would ideally have to be ones that have similar watering requirements
Whether you want any fruit trees
The kind of flowering plants you want
Whether you want flower beds and planter beds
The right mix of perennials and annuals – this will keep your landscape looking lush green and colorful right through the year
Different Plants and Shrubs
We adopt a highly creative and scientific approach in our landscape planning and use a good mix of perennials and annuals to achieve the perfect balance in your landscape. The different types of plants and trees we may use include:
Trees
We can install flowering, fruiting or fruitless trees such as:
Arizona Rosewood
Canyon Hackberry
Blackbrush Acacia
Blue Palo Verde
Chilean Mesquite
Evergreen Elm
Fruitless Olive
Mastic Tree
Other
Perennials
These add splashes of color to your landscape and enliven the space in a very unique manner. Some of the perennials we can plant are:
Autumn Sage
Blackfoot Daisy
Desert Senna
Gaura
Prairie Zinnia
Rain Lily
Paperflower
Annuals
We use locally-grown, high-quality seeds to create stunning cultivated annuals such as:
Arizona Poppy
Cherry Red Sage
Blanket Flower
Blue Flax
Mexican Gold Poppy
Owl's Clover
All the plants and trees and seeds are sourced from reputed nurseries and this ensures your landscape stays healthy and looking good right through the year. While we are highly focused on quality, you will find that our tree and planting cost is very competitive.
Call Unique Rock and Water Inc. at 602-999-0947 and speak with our experts about your project details. You also have the option to send us your requirements via this
Contact Us
form and we will schedule a FREE onsite consultation as soon as possible.
We Provide Services to the Following Cities and Towns in AZ: