Landscape & Hardscape Services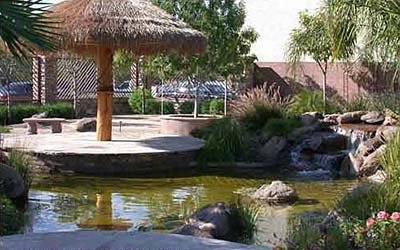 Here at unique rock & water, Inc, we pride ourselves in providing our clients throughout greater Litchfield Par, Goodyear, Buckeye, Phoenix, Surprise, Avondale, Glendale, Peoria, Sun City, Scottsdale and El Mirage, AZ with the following landscape and hardscaping services:
Artificial Turf
There are many great benefits associated with choosing to have artificial turf installed on your property. Nowadays, artificial turf products are manufactured to look very much like natural grass, so you shouldn't be worried about it looking fake. One of the best things about artificial turf is how low maintenance it is; it will not need mowing, trimming or watering and still look green and healthy all year round!
Read More About Artificial Turf >>
Fountains
Our team of professional landscape contractors will design and build you the perfect fountain for your outdoor space. No matter how large or small your outdoor area may; we can build you a cascading, spouting, pondless or a wall fountain. You will be delighted with the ambiance created by your new water feature!
Read More About Fountains >>
Landscaping
We offer our clientele full comprehensive landscaping services. This includes design, installation and maintenance. It is our goal to provide you with the landscape feature of your dreams. Or perhaps you want us to create a whole new landscape setting for your residential or commercial property? Don't hesitate to contact our friendly team today so we can get you on the road to a beautiful landscape!
Read More About Landscaping >>
Pavers
When it comes to the addition of hardscape elements such as patios, driveways, walkways and pool decks; it really is important to use the best material for the job! We believe that you can't go past pavers. They are the ideal hardscaping material for they not only look amazing but they are also cost effective, easy to install, durable, versatile, easy to repair and low in maintenance.
Read More About Pavers >>
Retaining Walls
Gone are the days when retaining walls were dull and boring structures to look at. These days there are so many products on the market that will not only mean you can have a strong and sturdy wall but also a beautiful looking wall too. With the use of segmental retaining wall blocks made form concrete or natural stone; we can deliver a retaining wall that will serve its function and increase the aesthetic appeal of your property as well!
Read More About Retaining Walls >>
Water Features
There really is nothing like the sights and sounds of water to invoke a sense of calm and peace as well as creating a tranquil atmosphere. If this sounds like the kind of thing you want for your outdoor scapes then how about the installation of a water feature? We can custom design and build you a waterfall, pond, fountain and so much more!
Read More About Water Features >>
Plants & Trees
Our teams of landscaping professionals have all the experience, knowledge and training required to ensure that you have the right types of plants and trees installed on your property. We will take various factors into consideration when selecting the best plantings for you such as climate, location and soil type. Ultimately we want you to have beautiful looking plants, trees and shrubs that look amazing but are low maintenance as well!
Read More About Plants & Trees >>
We Provide Services to the Following Cities and Towns in AZ: