Design Ideas
Arizona Landscape Design Ideas Overcoming the Challenge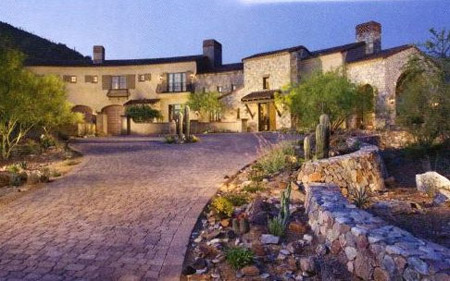 Many homeowners are interested in looking for Arizona landscape design ideas to make their landscapes look their very best. However, every area has its own unique challenges, and Arizona is certainly no exception. Its desert landscape means that methods that work well in temperate areas aren't the best choice.
Creating Arizona landscape design ideas that work in this climate can be tricky. However, it doesn't have to be hard to design a great landscape around your home. Here are a few Arizona landscape ideas to help you get started.
Creating Real Curb Appeal with Front Yard Landscape Design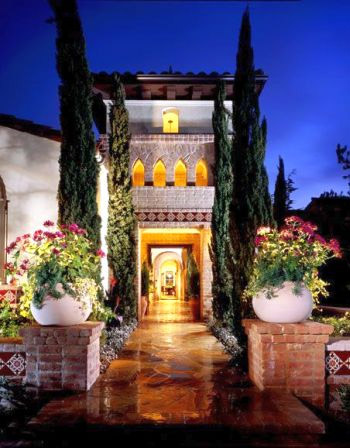 Front yard landscape design is often considered the most important component of complete home and garden planning. Your front yard is the first part of your home visitors see and may be the only portion of your residence seen by many. The design of your front yard also sets the theme for the rest of your outdoor space and should draw focus and attention to your home.
Your front yard serves many purposes and should be carefully planned to blend all these uses into a complementary design that brings out the beauty of your home.
Include every single area of your front yard in the design plan, from the road all the way to your front door.
But take care to keep the design simple and avoid large amounts of vegetation.
Use the basics of landscape design to direct visitors to the entrance to your home.
Creating Your Personal Outdoor Oasis: Landscape Design for Ponds and Water Features
Landscape design for ponds and water features is an elegant way to personalize your outdoor living area, while adding a touch of serenity to your landscape design. Ponds, pre-fabricated or custom fountains , cascading waterfalls , and other unique outdoor water accessories create a relaxing environment and the right design can blend your outdoor water features naturally with the sophisticated charm of your home.
Outdoor Rooms Are In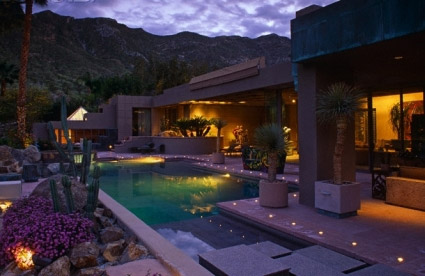 One of the biggest trends right now is the creation of outdoor living spaces. Outdoor kitchens are the most common, including outdoor fireplaces, firepits, BBQ grills, and attractive seating areas. However, people are creating entire great rooms for outdoor gatherings and entertainment.
Southwest style homes and gardens can be complemented by an outdoor kitchen or entertainment area in a similar style, for instance. Consider using adobe, terracotta, and similar materials.
While there are lots of fancy outdoor rooms, yours doesn't have to be a big investment. You can start with a simple outdoor living space and add on as you go, or just keep it small. Consider consulting with a professional landscape service about your Arizona landscape design ideas, and get suggestions that will work with your home and your landscape.
Retaining Wall Ide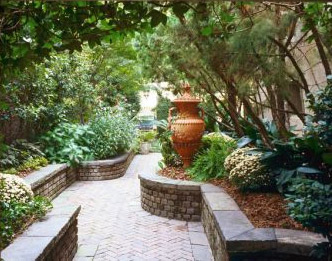 There are several different types of garden walls, in many shapes and sizes. Retaining walls are popular landscape design ideas that add both beauty and value to your property. This type of garden wall is often used to alter the appearance of hills and grades or may be built near the edge of the yard for extreme curb appeal.
Before adding any type of garden wall to your landscape design, there are a number of things to consider including the building materials, drainage, and the size and purpose of the wall.
Building these kinds of walls should left to the experts. We would be happy to provide you with recommendations of landscape architects, contractors and garden designers who can assist you in garden wall design and construction, as well as guidelines for planning a solid and beautiful retaining wall.
Xeriscaping and Gardens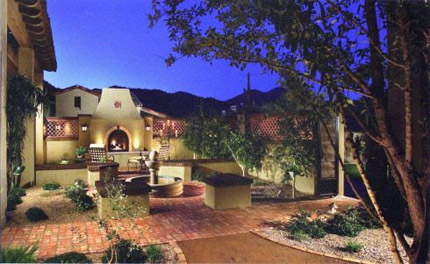 Lawn maintenance costs are going up, which means that many people are opting for an alternative to the traditional grassy lawn. In Arizona, where water can be at a premium, popular options include gardens and getting rid of the lawn altogether. Planting native plants and creating a landscape that reflects the natural surrounding environment (called xeriscaping) is a cost effective and attractive way to create a landscape that's right for Arizona.
Container gardening, low maintenance, environmentally friendly plants, and the creations of gardens that reflect reality rather than the ideal are in. Fussy, lush gardens that look like they're out of the pages of a magazine are becoming a lot less popular as environmental realities and time constraints start to set in.
If you choose to create a water-conserving landscape design, be sure to use correctly designed beds to take advantage of natural rainfall in your area. Use soil with a good structure, so it'll hold water longer, and make use of gravel or mulch - it cools soil and slows evaporation.
More and more homeowners are looking for Arizona landscape design ideas that are more environmentally friendly and sustainable. In addition to using outdoor living spaces, water conservation, and native plants, garden paths, vertical designs, and luxurious architectural features are popular.
We Provide Services to the Following Cities and Towns in AZ: